Debug work hit an impasse when you seemingly would not allow your database bug report to be shared with anybody but me. There is a small chance that Duplicati staff could help, especially if original author could be persuaded to get involved. See the PMs on this for details. I asked twice, on May 8 and May 13.
To summarize the unusual situation I saw in the recreated database, the Block table normally has a Size (limited by your configured blocksize which defaults to 102400, but not all are that big) and information on which destination volume the block is in (e.g. so that a restore knows which dblock file it must download).
Sorting by size, here's where the recreated database somehow went into not knowing block source, and saying that block size is negative. Most negative was -21487616. I don't know if this is a specific unusual use that means something to an expert in the recreate process, so has special meaning, or if something just goofed. If so, did goof begin from bad remote data? All this requires more expertise than I can offer…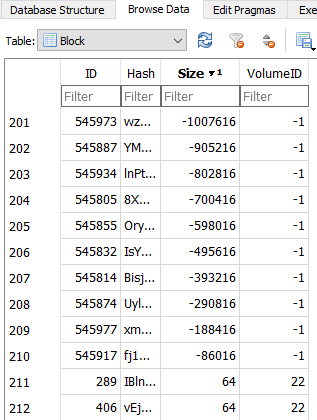 Are you SamiLehtinen on GitHub? I see that person opened an issue for development, but I don't see this. Perhaps going in that way will get some people involved. Bumping a topic on a user forum might not help. Even if people get involved, they will probably need to work with you a certain amount. I hope you will help.