TL;DR
Copying files between two computers runs at 500-1000Mbit.
Backup job between the same two computers runs at max 50Mbit.
.
Setup:
Duplicati on Winsrv 2012. 32GB ram, SSD system disk. 7200rpm data disks.
Minio on virtual Debian9 on same box. 1GB ram. system on own SSD, backup store on own 5400rpm disk. The two are (obviously ) directly connected network wise. 1Gbit.
Scenario One: Duplicati backup job.
According to the windows and Debian tools network speed hovers around a few hundred kbits with much faster but short bursts. Clocking the count down on the Duplicati web page's "to go" counts down roughly around 5MB/s.
I find nothing special when looking in Windows Resource Monitor regarding disk, cpu, mem or network load. Duplicati as service runs at 13% cpu. Nothing special in Debian top, htp, iftop as far as I can tell. Very low loads on everything. See screenshot below. I also tried running a backup job from another (physical) computer to the same Debian/Minio virtual computer. Exactly the same speeds and system loads.
Scenario Two: Copy files
500-1000Mbit. See screenshot below.
Backup job: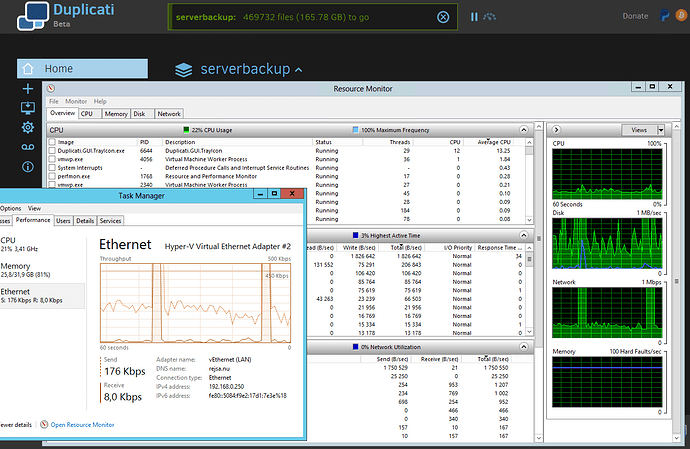 File copy: