Hello,
I set up Duplicati to backup files from my PC to my University OneDrive account back in the summer. It worked fine at the time and backed up daily without any issues until last week. I am using version 2.0.7.1_beta_2023-05-25.
Just last week it started to fail to back up (see screenshot of error below). The error indicates no connection can be made. If I try to test the connection I get the same error. I tried removing the // in the file path to no avail. I double checked that the path on the OneDrive site did not change and I can confirm it did not. I also verified the password is not wrong (I have not changed my password since the failed connections started and I can still log into my OneDrive via the web).
I am unsure of the next steps to resolve this.
Is it possible Microsoft or my University changed something on their end that caused Duplicati to no longer be able to connect? I would appreciate any help in how I could go about diagnosing and fixing this issue.
Here is what my configuration looks like.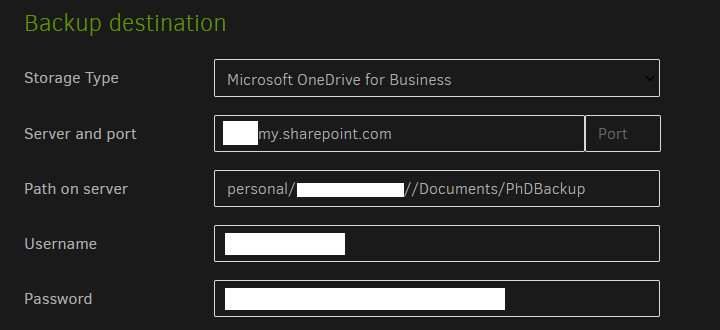 And here is the error I am getting when I try to run the backup. I get this same error when I try to test the connection.