Hi there,
I'm having issues setting up exclude filters in the Duplicati UI.
The filters did not execute correctly, and I think I found why.
My Filters look like this: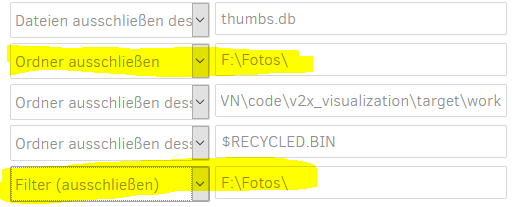 The above marked being an "Exclude Folder" and the lower a simple Exclude. Both have the same content. Yet, only the lower one works.
Looking at the generated command (Export->Commandline) shows that the above creates
–exclude="F:\Fotos\\"
while the lower one creates
–exclude="F:\Fotos\"
This also happens if I set up an "exclude File" Filter with content "F:\abc.jpg". Result: --exclude="F:\abc.jpg\"
Or to other File oder Folder pre-defined filter types.
So the pre-defined filter cases always add two more \ than necessary.
Why does this happen and is there a way to avoid this "over-escaping?
regards,
Fabian
Duplicati - 2.0.5.1_beta_2020-01-18
Windows 10
Firefox 73.0.1 (but same issue with Edge)