I'm trying to set up email notifications, but for some reason unknown to me I'm failing. This are my settings (anonymized, don't worry), I extracted all data from my Outlook settings:
–send-mail-from=name@domain.es
–send-mail-url=smtp://smtp.domain.es:465
–send-mail-password=MyP4ssw0rd
–send-mail-subject=%PARSEDRESULT%: Duplicati %OPERATIONNAME% report for %backup-name%
–send-mail-level=Success,Warning,Error,Fatal
–send-mail-to=name@domain.es
–send-mail-body=%RESULT%
You can see this is the exact same settings Outlook has configured (changed domain, adress and password for the screenshot, don't worry about it):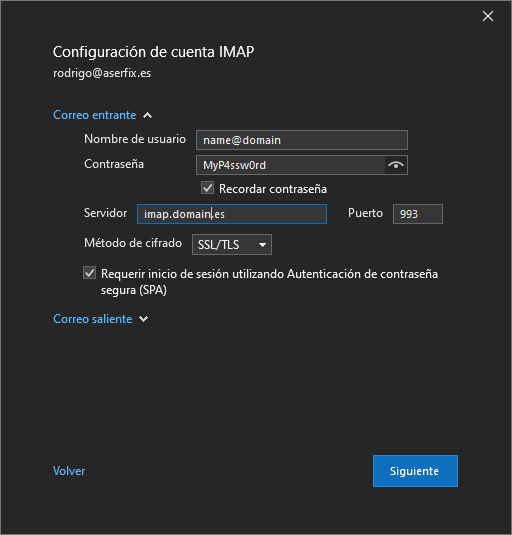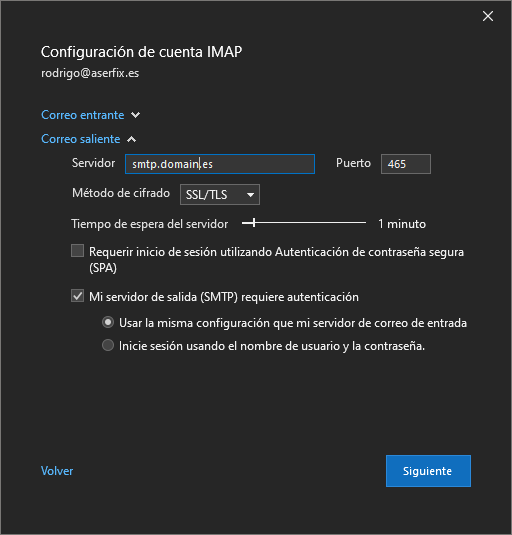 However when a backup is run, I get a warning message:
2021-11-05 10:47:52 +01 - [Warning-Duplicati.Library.Modules.Builtin.ReportHelper-ReportSubmitError]: Failed to send message: MailKit.Net.Smtp.SmtpProtocolException: The SMTP server has unexpectedly disconnected.


I've checked and this happens everytime, however I can send emails without any problem from Outlook, What am I missing here?