I've got three backup jobs (identical source settings) which back up to three different backup destinations (locally attached USB drive, NAS-Share via SMB, S3 cloud storage). Duplicati is configured to run as a service (Windows 10 64-bit).
Starting with the upgrade from duplicati-2.0.2.20_canary_2018-02-27 to 2.0.3.4_canary_2018-04-02 all three jobs throw a warning after having otherwise obviously successfully completed the backup task. Strange: the corresponding log file doesn't show any warning or error at all, so I've got no clue what the warning popup is about. As all three jobs show this behaviour, there's obviously no issue with the backup targets, but rather with something else.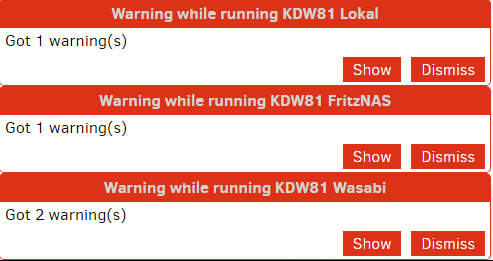 The log I provided below is from the last run of the job "KDW81 Wasabi", which shows "Got 2 warning(s)" in the according popup.
I'd be very glad if anyone has some idea where to start.
Thanks.
---
DeletedFiles: 148
DeletedFolders: 24
ModifiedFiles: 294
ExaminedFiles: 97627
OpenedFiles: 537
AddedFiles: 243
SizeOfModifiedFiles: 775782317
SizeOfAddedFiles: 33354070
SizeOfExaminedFiles: 94029028190
SizeOfOpenedFiles: 817689586
NotProcessedFiles: 0
AddedFolders: 24
TooLargeFiles: 0
FilesWithError: 0
ModifiedFolders: 0
ModifiedSymlinks: 0
AddedSymlinks: 0
DeletedSymlinks: 0
PartialBackup: False
Dryrun: False
MainOperation: Backup
CompactResults: null
DeleteResults:
DeletedSets:
Dryrun: False
MainOperation: Delete
CompactResults: null
ParsedResult: Success
EndTime: 06.04.2018 17:00:24 (1523026824)
BeginTime: 06.04.2018 17:00:04 (1523026804)
Duration: 00:00:19.4682728
Messages: [
2018-04-06 16:54:24 +02 - [Information-Duplicati.Library.Main.Controller-StartingOperation]: The operation Backup has started,
2018-04-06 16:55:01 +02 - [Information-Duplicati.Library.Main.BasicResults-BackendEvent]: Backend event: List - Started: (),
2018-04-06 16:55:12 +02 - [Information-Duplicati.Library.Main.BasicResults-BackendEvent]: Backend event: List - Completed: (10,32 KB),
2018-04-06 16:56:03 +02 - [Information-Duplicati.Library.Main.BasicResults-BackendEvent]: Backend event: Put - Started: duplicati-bb42e5be336a04c58b7bdfd90de14522d.dblock.zip.aes (49,91 MB),
2018-04-06 16:56:43 +02 - [Information-Duplicati.Library.Main.BasicResults-BackendEvent]: Backend event: Put - Completed: duplicati-bb42e5be336a04c58b7bdfd90de14522d.dblock.zip.aes (49,91 MB),
…
]
Warnings:
Errors:
BackendStatistics:
RemoteCalls: 14
BytesUploaded: 211171525
BytesDownloaded: 62112599
FilesUploaded: 9
FilesDownloaded: 3
FilesDeleted: 0
FoldersCreated: 0
RetryAttempts: 0
UnknownFileSize: 0
UnknownFileCount: 1
KnownFileCount: 4170
KnownFileSize: 101490202306
LastBackupDate: 06.04.2018 16:54:24 (1523026464)
BackupListCount: 232
TotalQuotaSpace: 0
FreeQuotaSpace: 0
AssignedQuotaSpace: -1
ReportedQuotaError: False
ReportedQuotaWarning: False
ParsedResult: Success
Messages: [
2018-04-06 16:54:24 +02 - [Information-Duplicati.Library.Main.Controller-StartingOperation]: The operation Backup has started,
2018-04-06 16:55:01 +02 - [Information-Duplicati.Library.Main.BasicResults-BackendEvent]: Backend event: List - Started: (),
2018-04-06 16:55:12 +02 - [Information-Duplicati.Library.Main.BasicResults-BackendEvent]: Backend event: List - Completed: (10,32 KB),
2018-04-06 16:56:03 +02 - [Information-Duplicati.Library.Main.BasicResults-BackendEvent]: Backend event: Put - Started: duplicati-bb42e5be336a04c58b7bdfd90de14522d.dblock.zip.aes (49,91 MB),
2018-04-06 16:56:43 +02 - [Information-Duplicati.Library.Main.BasicResults-BackendEvent]: Backend event: Put - Completed: duplicati-bb42e5be336a04c58b7bdfd90de14522d.dblock.zip.aes (49,91 MB),
…
]
Warnings:
Errors:
RepairResults: null
TestResults:
MainOperation: Test
Verifications: [
Key: duplicati-20180406T145424Z.dlist.zip.aes
Value: ,
Key: duplicati-i11f0fb9a8c9340f0982c5566eb58966b.dindex.zip.aes
Value: ,
Key: duplicati-ba28590cd464248508ddecafeba32f917.dblock.zip.aes
Value:
]
ParsedResult: Success
EndTime: 06.04.2018 17:00:36 (1523026836)
BeginTime: 06.04.2018 17:00:32 (1523026832)
Duration: 00:00:03.5908106
Messages: [
2018-04-06 16:54:24 +02 - [Information-Duplicati.Library.Main.Controller-StartingOperation]: The operation Backup has started,
2018-04-06 16:55:01 +02 - [Information-Duplicati.Library.Main.BasicResults-BackendEvent]: Backend event: List - Started: (),
2018-04-06 16:55:12 +02 - [Information-Duplicati.Library.Main.BasicResults-BackendEvent]: Backend event: List - Completed: (10,32 KB),
2018-04-06 16:56:03 +02 - [Information-Duplicati.Library.Main.BasicResults-BackendEvent]: Backend event: Put - Started: duplicati-bb42e5be336a04c58b7bdfd90de14522d.dblock.zip.aes (49,91 MB),
2018-04-06 16:56:43 +02 - [Information-Duplicati.Library.Main.BasicResults-BackendEvent]: Backend event: Put - Completed: duplicati-bb42e5be336a04c58b7bdfd90de14522d.dblock.zip.aes (49,91 MB),
…
]
Warnings:
Errors:
ParsedResult: Success
EndTime: 06.04.2018 17:00:36 (1523026836)
BeginTime: 06.04.2018 16:54:24 (1523026464)
Duration: 00:06:11.3943826
Messages: [
2018-04-06 16:54:24 +02 - [Information-Duplicati.Library.Main.Controller-StartingOperation]: The operation Backup has started,
2018-04-06 16:55:01 +02 - [Information-Duplicati.Library.Main.BasicResults-BackendEvent]: Backend event: List - Started: (),
2018-04-06 16:55:12 +02 - [Information-Duplicati.Library.Main.BasicResults-BackendEvent]: Backend event: List - Completed: (10,32 KB),
2018-04-06 16:56:03 +02 - [Information-Duplicati.Library.Main.BasicResults-BackendEvent]: Backend event: Put - Started: duplicati-bb42e5be336a04c58b7bdfd90de14522d.dblock.zip.aes (49,91 MB),
2018-04-06 16:56:43 +02 - [Information-Duplicati.Library.Main.BasicResults-BackendEvent]: Backend event: Put - Completed: duplicati-bb42e5be336a04c58b7bdfd90de14522d.dblock.zip.aes (49,91 MB),
…
]
Warnings:
Errors: