I have a backup job going to S3. When setting up the job from scratch, I followed this basic process:
Walked through creating a new backup job in Duplicati
Selected S3 as the destination
Generated a GUID for my bucket name
On AWS, created a new dedicated user for duplicati
In duplicati did the "Generate IAM Policy" button and copied the results
Created a new IAM policy in AWS and pasted what Duplicati gave me (I think I had to add "CreateBucket" as well to the default generated one
Attached this policy to the new user I created, then added this user's credentials to the backup config
At this point I tested the config and it passed successfully.
My backups are now completing, and the bucket was created in S3. From what I can tell, everything is working as it should. Files are being updated in the bucket, and I was able to do a test restore of a file successfully.
But on my S3 Management Console, it shows this under the "Access" column for the bucket: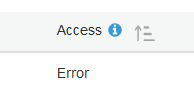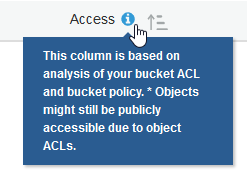 I just wanted to recount my steps and see if I missed something, or if anyone knows if I should be concerned about it or not. I don't have a lot of AWS experience, and everything about the backup appears to be working fine. Was the IAM policy supposed to be put somewhere else instead of attached to a dedicated backup user? There doesn't seem to be an actual problem, so is it safe to ignore it?
Thanks!