I've had a weird problem and luckily was able to solve it:
Duplicati has been running for some years on my Netgear ReadyNAS, until last week.
After moving some source files around, I was not able to logon to the web UI. Sometimes the web page didn't load at all, a few times I got a login screen that returned "Failed to get nonce" after entering the password.
Fortunately I was able to find the cause of this problem, because the Duplicati-Monitoring service is used for most of my backup jobs: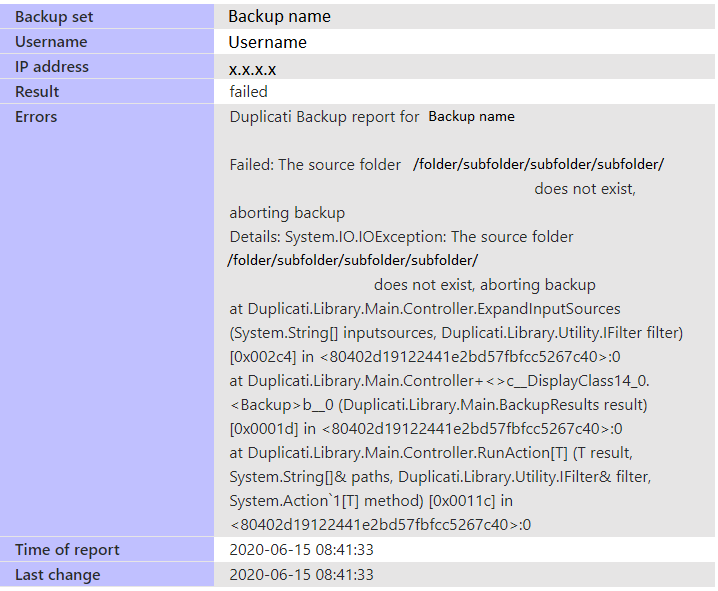 One of the source folders was indeed moved to another location, so this is a valid error message. However, the backup job was started again and again, resulting in thousands of log files:

To access my backups again, the only thing I had to do was creating an empty folder (the one that was missing according to the logs) and wait a few minutes.
The web UI became accessible again, I edited the backup job (removing non-existent source folder) and removed the temporary folder on my NAS.
This seems to be a nasty bug. I was not far away from reinstalling Duplicati and manually reconfiguring all backup jobs.
Advanced options used for this backup job:
--snapshot-policy=Auto
--send-mail-level=Warning,Error,Fatal
--send-mail-url=smtp://x.x.x.x
--send-mail-from=name@domain.tld
--send-mail-to=name@domain.tld
--send-mail-subject=%PARSEDRESULT%: Duplicati %OPERATIONNAME% report for %backup-name%
--send-mail-body=%RESULT%
--backup-test-samples=10
--tempdir=/<tempfolder>/
--no-local-blocks=true
--full-result=true
--asynchronous-upload-folder=/<foldername>/
--blocksize=50MB
--dblock-size=500MB
--send-http-url=<duplicati-monitoring-url>