Hi all,
Was a crashplan and previous duplicati 1.3.4 user. After the demise of crashplan did the dive into the 'beta' version. So far still testing out but really appreciate the new cloud services supported.
Something weird though - seems other cloud providers work ok but for Box.com - I end up getting strange error messages ("Got 0 warnings").
Screenshot and some logs I could see provided. Anybody have insights why this is happening?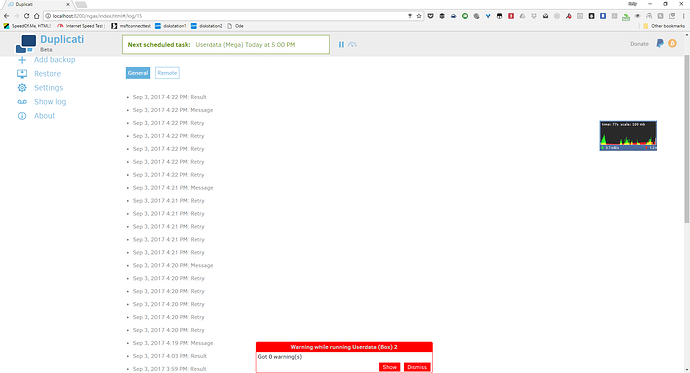 DeletedFiles: 0
DeletedFolders: 0
ModifiedFiles: 1
ExaminedFiles: 33
OpenedFiles: 1
AddedFiles: 0
SizeOfModifiedFiles: 5896192
SizeOfAddedFiles: 0
SizeOfExaminedFiles: 9905308
SizeOfOpenedFiles: 5896192
NotProcessedFiles: 0
AddedFolders: 0
TooLargeFiles: 0
FilesWithError: 0
ModifiedFolders: 0
ModifiedSymlinks: 0
AddedSymlinks: 0
DeletedSymlinks: 0
PartialBackup: False
Dryrun: False
MainOperation: Backup
CompactResults:
    DeletedFileCount: 0
    DownloadedFileCount: 0
    UploadedFileCount: 0
    DeletedFileSize: 0
    DownloadedFileSize: 0
    UploadedFileSize: 0
    Dryrun: False
    MainOperation: Compact
    ParsedResult: Success
    EndTime: 3/09/2017 8:19:51 AM
    BeginTime: 3/09/2017 8:19:51 AM
    Duration: 00:00:00.0030024
    BackendStatistics:
        RemoteCalls: 20
        BytesUploaded: 5237735
        BytesDownloaded: 0
        FilesUploaded: 3
        FilesDownloaded: 0
        FilesDeleted: 0
        FoldersCreated: 0
        RetryAttempts: 12
        UnknownFileSize: 0
        UnknownFileCount: 0
        KnownFileCount: 6
        KnownFileSize: 13619854
        LastBackupDate: 3/09/2017 4:19:37 PM
        BackupListCount: 2
        TotalQuotaSpace: 0
        FreeQuotaSpace: 0
        AssignedQuotaSpace: -1
        ParsedResult: Success
DeleteResults: null
RepairResults: null
TestResults:
    MainOperation: Test
    Verifications: [
        Key: duplicati-20170903T075702Z.dlist.zip.aes
        Value: [
            Key: Error
            Value: The requested file does not exist
        ],
        Key: duplicati-ife843b266bc34aa4a1a052869b4d6b69.dindex.zip.aes
        Value: [
            Key: Error
            Value: The requested file does not exist
        ],
        Key: duplicati-b477f2241fe974921824b4955139c59c7.dblock.zip.aes
        Value: [
            Key: Error
            Value: The requested file does not exist
        ]
    ]
    ParsedResult: Success
    EndTime: 3/09/2017 8:22:08 AM
    BeginTime: 3/09/2017 8:19:52 AM
    Duration: 00:02:15.9896801
ParsedResult: Error
EndTime: 3/09/2017 8:22:08 AM
BeginTime: 3/09/2017 8:19:37 AM
Duration: 00:02:31.7372402
Messages: [
    Compacting not required
]
Warnings: []
Errors: [
    Failed to process file duplicati-20170903T075702Z.dlist.zip.aes => The requested file does not exist,
    Failed to process file duplicati-ife843b266bc34aa4a1a052869b4d6b69.dindex.zip.aes => The requested file does not exist,
    Failed to process file duplicati-b477f2241fe974921824b4955139c59c7.dblock.zip.aes => The requested file does not exist
]