Hey.
I am using Duplicati on OMV on Odroid HC2. So my OS installed to microSD card.
I Am try to figure how to minimize sd card using during backups.
I have 2 MB/s speed with this settings:
–zip-compression-zip64=true
–zip-compression-method=None
–zip-compression-level=0
–auto-vacuum=true
–asynchronous-upload-folder=/sharedfolders/duplicati_temp
–tempdir=/sharedfolders/duplicati_temp
–auto-cleanup=true
–dbpath=/sharedfolders/duplicati_temp/db_file
–use-block-cache=true
–disable-streaming-transfers=false
–use-move-for-put=true
So I guess all temp files and folders now holding on HDD, not on microSD temp.
Wrong! After few minutes of slow backpup process i have error "Insertion failed because the database is full database or disk is full". I have 4TB hdd with >50% free space. So i think SD card still used. And it's true: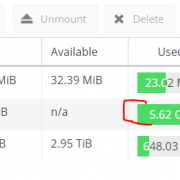 But why? How i can find what is eating so much space on my SD card and how to beat it?