I've ran into the issue that the firewall of Kaspersky Internet Security blocked Duplicati's server and therefore hindered Duplicati's startup. Even though I could see Duplicati's tray icon, after double-clicking it, the browser loaded the local address http://localhost:8200/ngax/index.html forever.
Fix:
Go to Kaspersky -> Setting -> Protection -> Firewall -> Configure application rules.
Search for "Duplicati"
Right-click Duplcati.GUI.TrayIcon, select Network rules -> allow.
This worked for me two days ago, however, strangely enough, I had to explicitly add an 'Allow' rule today for it to work again:
Right-click Duplcati.GUI.TrayIcon, click "Details and rules."
In the tab "Network rules" click on "Add".
Fill in the data as shown in the second screenshot (or its 'alt' description) below.
I only use Duplicati to backup data to my external hard drive. In case you use it to upload your backups to a NAS or online storage, you might want to set "Address" to "Any address".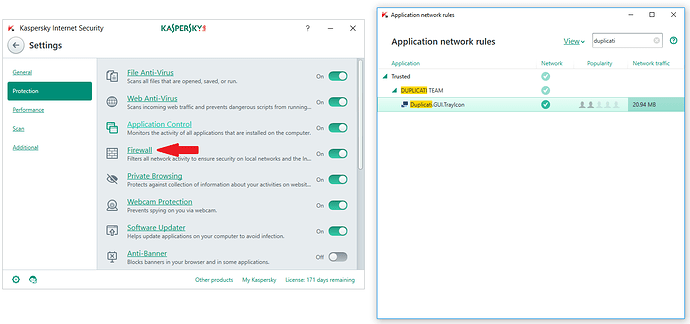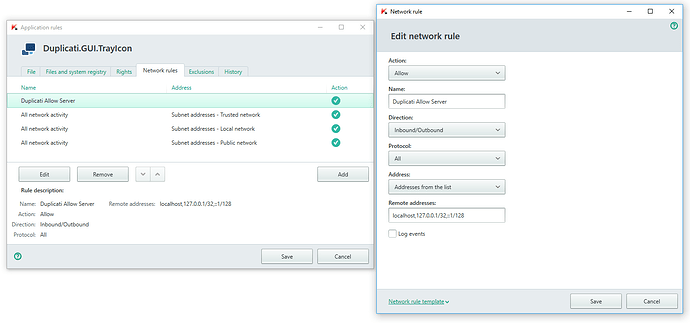 I hope this helps other users encountering the same issue. Maybe this should even be mentioned on the download page or recognized by Duplicati itself. A simple self-ping should do the trick, shouldn't it?