Greetings.
I've installed Duplicati v2.0.5.1-1 on a computer running Linux Distro Elementary OS Hera, Ubuntu 18.04.3 LTS, Linux 5.3.0-46 generic, GTK 3.22.30.
I receive the following error message on every backup I run:
" 2020-04-15 16:32:19 -06 - [Error-Duplicati.Library.Main.Operation.FilelistProcessor-BackendQuotaExceeded]: Backend quota has been exceeded: Using 26.18 GB of 0 bytes (0 bytes available) "
I am backing up to a local hard drive which is connected to my local network.
The drive is connected via USB to a Netgear WNDR3700 running Firmware V1.0.7.98NA.
The drive is formatted out as GUID, with a partition of ext2.
The drive has 1.5 TB free out of 2TB - see attachment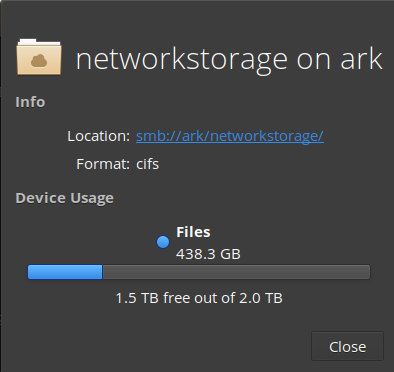 The complete log for the most recent backup attempt:
{
"DeletedFiles": 6838,
"DeletedFolders": 105,
"ModifiedFiles": 2167,
"ExaminedFiles": 369600,
"OpenedFiles": 14053,
"AddedFiles": 11886,
"SizeOfModifiedFiles": 660471561,
"SizeOfAddedFiles": 647868580,
"SizeOfExaminedFiles": 42039413671,
"SizeOfOpenedFiles": 1310911016,
"NotProcessedFiles": 0,
"AddedFolders": 84,
"TooLargeFiles": 0,
"FilesWithError": 0,
"ModifiedFolders": 0,
"ModifiedSymlinks": 0,
"AddedSymlinks": 0,
"DeletedSymlinks": 0,
"PartialBackup": false,
"Dryrun": false,
"MainOperation": "Backup",
"CompactResults": null,
"VacuumResults": null,
"DeleteResults": null,
"RepairResults": null,
"TestResults": {
"MainOperation": "Test",
"VerificationsActualLength": 3,
"Verifications": [
{
"Key": "duplicati-20200415T223119Z.dlist.zip.aes",
"Value":
},
{
"Key": "duplicati-i4696f0b9e5594d6d8e1e6f7f52f9ef8b.dindex.zip.aes",
"Value":
},
{
"Key": "duplicati-bc6dbe8078ab14a9e85c12dcd99802e5c.dblock.zip.aes",
"Value":
}
],
"ParsedResult": "Success",
"Version": "2.0.5.1 (2.0.5.1_beta_2020-01-18)",
"EndTime": "2020-04-15T22:47:04.390911Z",
"BeginTime": "2020-04-15T22:46:54.695862Z",
"Duration": "00:00:09.6950490",
"MessagesActualLength": 0,
"WarningsActualLength": 0,
"ErrorsActualLength": 0,
"Messages": null,
"Warnings": null,
"Errors": null,
"BackendStatistics": {
"RemoteCalls": 34,
"BytesUploaded": 751579737,
"BytesDownloaded": 78373479,
"FilesUploaded": 29,
"FilesDownloaded": 3,
"FilesDeleted": 0,
"FoldersCreated": 0,
"RetryAttempts": 0,
"UnknownFileSize": 35144,
"UnknownFileCount": 9,
"KnownFileCount": 1108,
"KnownFileSize": 28860819012,
"LastBackupDate": "2020-04-15T16:31:19-06:00",
"BackupListCount": 8,
"TotalQuotaSpace": 0,
"FreeQuotaSpace": 0,
"AssignedQuotaSpace": -1,
"ReportedQuotaError": true,
"ReportedQuotaWarning": false,
"MainOperation": "Backup",
"ParsedResult": "Success",
"Version": "2.0.5.1 (2.0.5.1_beta_2020-01-18)",
"EndTime": "0001-01-01T00:00:00",
"BeginTime": "2020-04-15T22:31:18.496034Z",
"Duration": "00:00:00",
"MessagesActualLength": 0,
"WarningsActualLength": 0,
"ErrorsActualLength": 0,
"Messages": null,
"Warnings": null,
"Errors": null
}
},
"ParsedResult": "Error",
"Version": "2.0.5.1 (2.0.5.1_beta_2020-01-18)",
"EndTime": "2020-04-15T22:47:04.471214Z",
"BeginTime": "2020-04-15T22:31:18.495143Z",
"Duration": "00:15:45.9760710",
"MessagesActualLength": 70,
"WarningsActualLength": 4,
"ErrorsActualLength": 1,
"Messages": [
"2020-04-15 16:31:19 -06 - [Information-GetGpgProgramPath-gpg]: gpg",
"2020-04-15 16:31:19 -06 - [Information-Duplicati.Library.Main.Controller-StartingOperation]: The operation Backup has started",
"2020-04-15 16:32:10 -06 - [Information-Duplicati.Library.Main.BasicResults-BackendEvent]: Backend event: List - Started: ()",
"2020-04-15 16:32:19 -06 - [Information-Duplicati.Library.Main.BasicResults-BackendEvent]: Backend event: List - Completed: (1.06 KB)",
"2020-04-15 16:41:06 -06 - [Information-Duplicati.Library.Main.BasicResults-BackendEvent]: Backend event: Put - Started: duplicati-be14ed478b24e4b70b14b4b4d3fb4a3eb.dblock.zip.aes (49.94 MB)",
"2020-04-15 16:41:06 -06 - [Information-Duplicati.Library.Main.BasicResults-BackendEvent]: Backend event: Put - Started: duplicati-bfce68d06355f48d5bdc7bdf43e48fc87.dblock.zip.aes (49.95 MB)",
"2020-04-15 16:41:14 -06 - [Information-Duplicati.Library.Main.BasicResults-BackendEvent]: Backend event: Put - Completed: duplicati-bfce68d06355f48d5bdc7bdf43e48fc87.dblock.zip.aes (49.95 MB)",
"2020-04-15 16:41:14 -06 - [Information-Duplicati.Library.Main.BasicResults-BackendEvent]: Backend event: Put - Completed: duplicati-be14ed478b24e4b70b14b4b4d3fb4a3eb.dblock.zip.aes (49.94 MB)",
"2020-04-15 16:41:14 -06 - [Information-Duplicati.Library.Main.BasicResults-BackendEvent]: Backend event: Put - Started: duplicati-i9338196ffd3e4e0b9023af74ce5a148a.dindex.zip.aes (78.18 KB)",
"2020-04-15 16:41:14 -06 - [Information-Duplicati.Library.Main.BasicResults-BackendEvent]: Backend event: Put - Started: duplicati-ib49f92f1331047dba11140312b42c95c.dindex.zip.aes (73.72 KB)",
"2020-04-15 16:41:15 -06 - [Information-Duplicati.Library.Main.BasicResults-BackendEvent]: Backend event: Put - Completed: duplicati-i9338196ffd3e4e0b9023af74ce5a148a.dindex.zip.aes (78.18 KB)",
"2020-04-15 16:41:15 -06 - [Information-Duplicati.Library.Main.BasicResults-BackendEvent]: Backend event: Put - Completed: duplicati-ib49f92f1331047dba11140312b42c95c.dindex.zip.aes (73.72 KB)",
"2020-04-15 16:42:10 -06 - [Information-Duplicati.Library.Main.BasicResults-BackendEvent]: Backend event: Put - Started: duplicati-b2f1cea59558d4e6c8f826d247d719469.dblock.zip.aes (49.90 MB)",
"2020-04-15 16:42:10 -06 - [Information-Duplicati.Library.Main.BasicResults-BackendEvent]: Backend event: Put - Started: duplicati-b447838cea84a40af9e5974dffda4712c.dblock.zip.aes (49.99 MB)",
"2020-04-15 16:42:19 -06 - [Information-Duplicati.Library.Main.BasicResults-BackendEvent]: Backend event: Put - Completed: duplicati-b2f1cea59558d4e6c8f826d247d719469.dblock.zip.aes (49.90 MB)",
"2020-04-15 16:42:19 -06 - [Information-Duplicati.Library.Main.BasicResults-BackendEvent]: Backend event: Put - Started: duplicati-i0a41796f593c41beb4a282e34ecae033.dindex.zip.aes (79.20 KB)",
"2020-04-15 16:42:20 -06 - [Information-Duplicati.Library.Main.BasicResults-BackendEvent]: Backend event: Put - Completed: duplicati-i0a41796f593c41beb4a282e34ecae033.dindex.zip.aes (79.20 KB)",
"2020-04-15 16:42:20 -06 - [Information-Duplicati.Library.Main.BasicResults-BackendEvent]: Backend event: Put - Completed: duplicati-b447838cea84a40af9e5974dffda4712c.dblock.zip.aes (49.99 MB)",
"2020-04-15 16:42:20 -06 - [Information-Duplicati.Library.Main.BasicResults-BackendEvent]: Backend event: Put - Started: duplicati-ie951196528b64a6b8284c4aae0b435a6.dindex.zip.aes (165.58 KB)",
"2020-04-15 16:42:20 -06 - [Information-Duplicati.Library.Main.BasicResults-BackendEvent]: Backend event: Put - Completed: duplicati-ie951196528b64a6b8284c4aae0b435a6.dindex.zip.aes (165.58 KB)"
],
"Warnings": [
"2020-04-15 16:34:30 -06 - [Warning-Duplicati.Library.Main.Operation.Backup.FileEnumerationProcess-FileAccessError]: Error reported while accessing file: /home/mainadmin/.cache/dconf/",
"2020-04-15 16:34:30 -06 - [Warning-Duplicati.Library.Main.Operation.Backup.FileEnumerationProcess-FileAccessError]: Error reported while accessing file: /home/mainadmin/.cache/dconf/",
"2020-04-15 16:45:12 -06 - [Warning-Duplicati.Library.Main.Operation.Backup.FileEnumerationProcess-FileAccessError]: Error reported while accessing file: /home/mainadmin/.cache/dconf/",
"2020-04-15 16:45:12 -06 - [Warning-Duplicati.Library.Main.Operation.Backup.FileEnumerationProcess-FileAccessError]: Error reported while accessing file: /home/mainadmin/.cache/dconf/"
],
"Errors": [
"2020-04-15 16:32:19 -06 - [Error-Duplicati.Library.Main.Operation.FilelistProcessor-BackendQuotaExceeded]: Backend quota has been exceeded: Using 26.18 GB of 0 bytes (0 bytes available)"
],
"BackendStatistics": {
"RemoteCalls": 34,
"BytesUploaded": 751579737,
"BytesDownloaded": 78373479,
"FilesUploaded": 29,
"FilesDownloaded": 3,
"FilesDeleted": 0,
"FoldersCreated": 0,
"RetryAttempts": 0,
"UnknownFileSize": 35144,
"UnknownFileCount": 9,
"KnownFileCount": 1108,
"KnownFileSize": 28860819012,
"LastBackupDate": "2020-04-15T16:31:19-06:00",
"BackupListCount": 8,
"TotalQuotaSpace": 0,
"FreeQuotaSpace": 0,
"AssignedQuotaSpace": -1,
"ReportedQuotaError": true,
"ReportedQuotaWarning": false,
"MainOperation": "Backup",
"ParsedResult": "Success",
"Version": "2.0.5.1 (2.0.5.1_beta_2020-01-18)",
"EndTime": "0001-01-01T00:00:00",
"BeginTime": "2020-04-15T22:31:18.496034Z",
"Duration": "00:00:00",
"MessagesActualLength": 0,
"WarningsActualLength": 0,
"ErrorsActualLength": 0,
"Messages": null,
"Warnings": null,
"Errors": null
}
}