Hi,
I am currently using Duplicati (2.0.6.1_beta_2021-05-03) in Windows from the System Tray running on Windows Server 2019. I'm trialling/testing the software and have backups running every 15 minutes of a small MailEnable post office. Every day or so the backup locks up and no longer responds to scheduling or manual execution via the web interface.
I turned on verbose logging and have captured where it stopped on this occasion: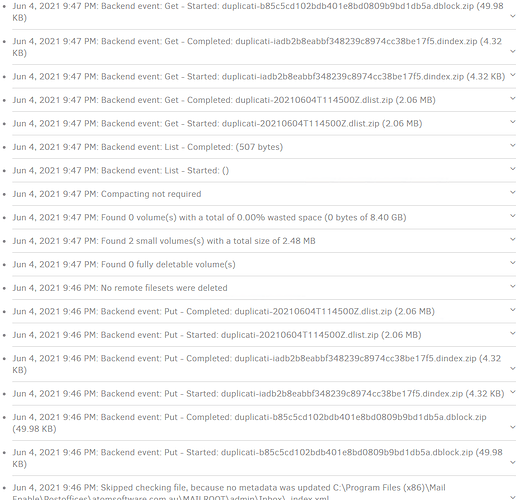 There's no error message. The status bar at the top says "Backup complete!"… but it isn't fully complete as normally it will send me a completion email and write that to the log. As noted above it no longer responds to scheduling or manual "run now" commands from the web interface.
In looking at the details of the backup job it says that the last successful backup was at 9:36pm… yet this one stated at 9:45pm, so the backup summary doesn't regard the latest backup as successful.
In looking at restores, a 9:45pm backup set has been created for restoration purposes.
The previous run of successful backups ran from 3 June 1:38am to 4 June 1:00am. This run of successful backups was from 4 June 7:55am to 4 Jun 9:45pm… so the timing of how long the backups will successfully run for is unpredictable.
I'll switch over to running Duplicati as a service as I suspect it will avoid this issue. I hope I've provided enough information for you to track down why the backups stop.
Thank you.