Hello, since short time I run 2 Docker an my NAS. It´s Duplicati and Traccar (GPS-tracking).
I want to bakup the folder of traccar (config, database, log, …). I see the folder "duplicati" [/volume2/docker/duplicati/] but I don´t see the folder "traccar" [/volume2/docker/traccar/]. Any ideas?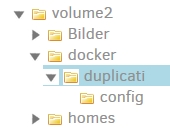 Access-rights are the same "everybody read" for the folder docker.
Thx´s for yout help
Gegges