I am running Duplicati 2.0.2.1_beta_2017-08-01 on Windows 10 x64, using Chrome as GUI, and backing up to Google drive. I keep getting errors saying that the connection to the server is lost. This always pops up soon after I log into the GUI. The errors in the console say ERR_CONNECTION_REFUSED and Missing XSRF Token. This just started happening today when I noticed emailed failure reports, with the error "Found 1 files that are missing from the remote storage, please run repair".
I was running an older version (from March 2017) and updated to 2.0.2.1 today to try to fix the problem, but it persists. My internet connection is fine, and I managed to test the connection to Google drive and it reports success.
I've tried to upload a screenshot of the errors.
Thanks in advance for any help!!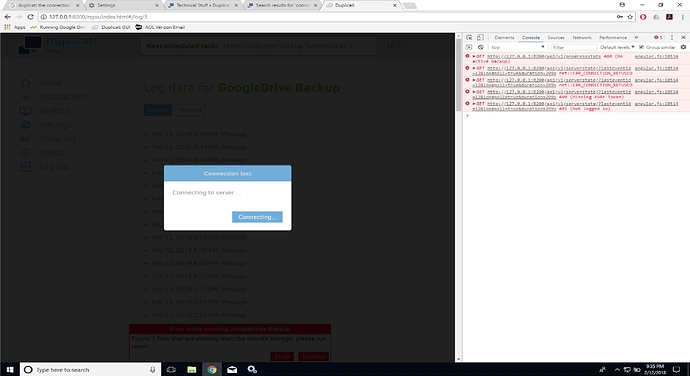 (I get the same sort of errors in Internet Explorer.)