(Originally posted to a thread on local backups, but started as a new thread for cloud backups)
I have read the block sizing article and tried using the storage calculator and am still confused about what block sizes to use for cloud storage (B2 in my case). (No offense intended, kenkendk and kees-z. The article and tool are very well written. This is clearly a PEBCAK problem.) I did an analysis of the files I need to back up and here's what I came up with: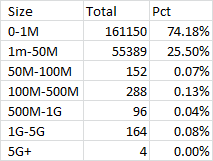 3/4 of the files are under 1 meg in size, with almost all the rest between 1 meg and 500 meg. I am willing to submit to the wisdom of Duplicati's default settings for block & dblock sizes, but I am hoping one of you "pros" might see something in the file/size distribution which would steer me in another direction.
I am also considering using the backup-test-samples option to verify backups, but by back-end provider (B2) charges for download bandwidth, so I obviously want to minimize the amount of data downloaded to verify backups. Does using that option change how I would set the block and dblock sizes?
I'm about to "fully commit" to Duplicati and begin a cloud backup of almost 1.5T of data, so I want to be sure I get it right the first time. Any advice would be greatly appreciated.