Duplicati - 2.0.4.5_beta_2018-11-28
I have 3 backups configured and when I go into each one and Edit configuration it does not show all the advanced options i set up for that backup however when I export the config to a command line I can see that they are there.
for example I have a backup to my local nas that i have configured email alerts to be sent to me on Warning,Error,Fatal errors, this was entered into the advanced options in edit text as box,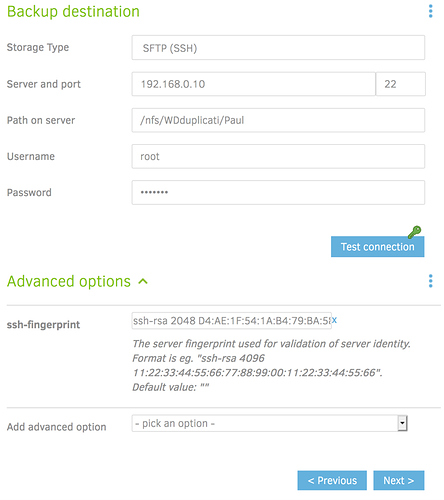 If I now export the config as a command line I can see that I have set up mail:-
mono /Applications/Duplicati.app/Contents/Resources/Duplicati.CommandLine.exe backup "ssh://192.168.0.10:22//nfs/WDduplicati/Paul?auth-username=root&auth-password=xxx&ssh-fingerprint=ssh-rsa%202048%20D4%3AAE%3A1F%3A54%3A1A%3AB4%3A79%3ABA%3A58%3A8B%3A2F%3A90%3AAF%3AEA%3ACF%3A4E" "/Volumes/Data/Users/paul/Application Data/" /Volumes/Data/Users/paul/Documents/ --send-mail-url="smtp://mail.pushex.com:587/?starttls=when-available" --send-mail-any-operation=true --send-mail-subject="Duplicati %PARSEDRESULT%, %OPERATIONNAME% report for %backup-name%" --send-mail-to="paul@xxx" --send-mail-username=xxx --send-mail-password=xxx --send-mail-from="Paul- iMac it@xxx" --send-mail-level="Warning,Error,Fatal" --backup-name="DataBackup to WDduplicati" --dbpath=/Volumes/Data/Users/paul/.config/Duplicati/WDmycloud.sqlite --encryption-module= --compression-module=zip --dblock-size=50mb --no-encryption=true --disable-module=console-password-input
I have created a new test backup to my nas and confirmed it works rebooted my system and checked the advanced options and it correctly shows my email settings in the advanced options.
My backups all run ok however I am unable to make any changes to the email settings I have used.
My question is how do I fix this?
regards
Paul