Hi.
Iam trying to setup backup for my new W10 system on my routers USB port as it in difrent power circuit +makeing backup on same location as the backed up file dosent make it backup in my maind its just wasted space!
Anyway im close to get RPi4s out and builded to get better server houst. But still wanted to get your maind on the problem im having.
I have asus Router(RT-AC68U with newest soft/firmware) set up as AP and new clean USB drive on its USB3 port.
It did show as Samba and connecting it from my PC isnt problem.
But Samba didnt show on Duplicati's list of adress to copy the backup file so i tryed to set it up as FTP- server.
But even if i give access to that drive for everyone and i can access it witout PW with my brouser just entering ftp://192.168.1.200., i still get "error 530" on testing access to it on setting up Backup location with Duplicati wizard…
Main Q: I think its still problem on my ASUS side of the backup system? but what do you think?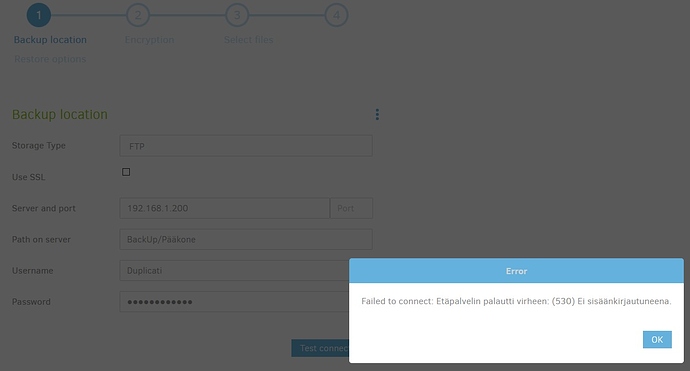 Picture of Duplicati error(sorry tryed to set it in English, but it didnt get it fully)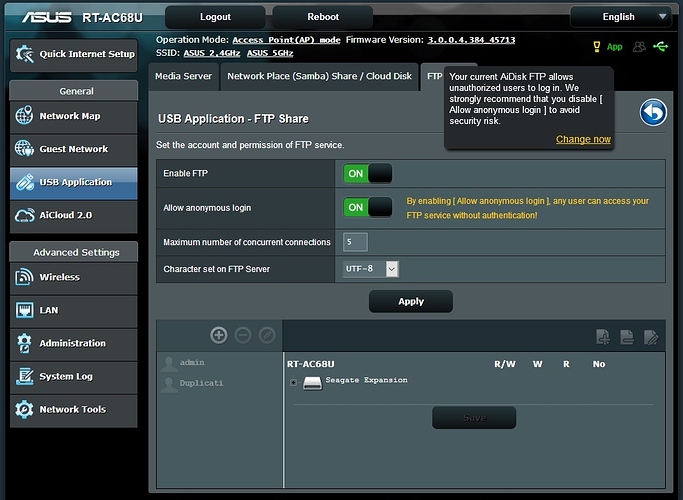 Picture of my Router settings that seams to work if you dont ask it from Duplicati…
Any Help is Great! Sorry my English! Cheers Mummy!