System Specs:
Windows 10 x64 (both server and workstation versions)
Duplicati is running as a service (access through port 8200)
The tray icon is not active
Trying to upgrade from 2.0.3.3_beta_2018-04-02 to 2.0.4.5_beta_2018-11-28 through the GUI. The system indicates there is an update available, but when I click on "Install" nothing happens. Looking in the logs I see the following errors: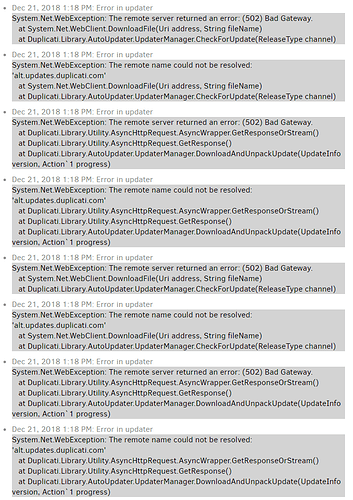 I tried resolving alt.updates.duplicati.com from the command line (via ping & nslookup) and it doesn't resolve. Some searching on the portal shows some discussion about alt.updates.duplicati.com in the canary releases, but nothing in the beta channel. A full uninstall & reinstall works, but that's not the preferred path I wish to pursue

Is this a known problem, and can anyone suggest a workaround to allow me to update my systems?