Hi.
I am trying to restore files from a backup. The backup is on a remote server, based on the sftp-protocol (ftp over ssh).
Duplicati shows frequently "Warnings" during the restoring process, but when I click on them, I only see a list of backups that has been running - with no warnings.
Here is an image of my restoring process (please ignore, that I took the screenshot before selecting the correct date):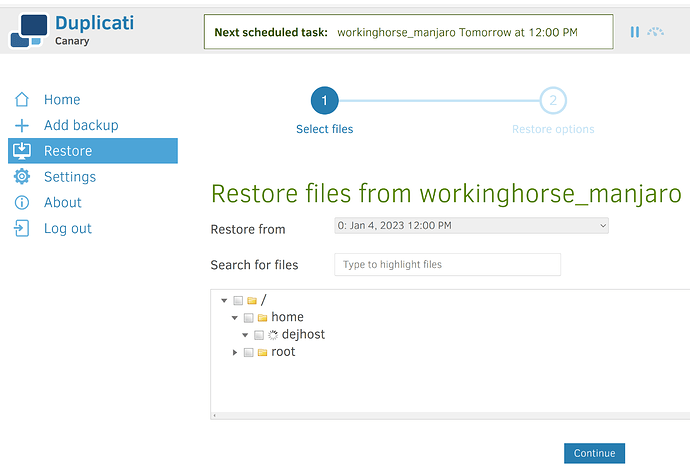 The response to every click that opens a subfolder takes 1-4 minutes, although the list of the subfolders is (as the image shows) very limited.
In order to speed up the process, I paste the local path to the files I'd like to restore into the search box and press "search". After 2-3 minutes, an warning appears. Clicking on it leads me to the start-page of duplicati. So no information.
So the only way to restore the files is to
ignore all the warnings
be very patient until I finally decent into the relevant subdirectory (about 15min).
At last and most important: it worked, and I restored the files. Still, I'd like to improve/understand why this is happenening. Could you please help me to sort the error-msgs, the delay and the "path-not-accepted" out? I have to admid that I lost some of my trust in duplicati during the past year.
According to an answer from drwtsn32, I should be able to paste the path…: Feature Request - #2 by drwtsn32