A relative of me is using duplicati 1.3.4 since years to store to a remote SSH storage, due to the slow internet line, the last full backup was done in 2016, since then all backups were incremental.
Recently her SSD failed. I replaced the SSD, installed Windows 7 and duplicati, recovered the backup settings and tried to do a restore.
Unfortunately, the restore on Windows failed, and only Files from the last full backup were restored (it is unclear if all files from that backup were restored, I wasn't there when the backup finished).
I tried to restore the files on my linux computer, using a local copy of the backup archive. Unfortunately, the restore failed with a message saying:
"The restore operation failed: Invalid filename detected:
[some filenames] error message:
Input string was not in correct format: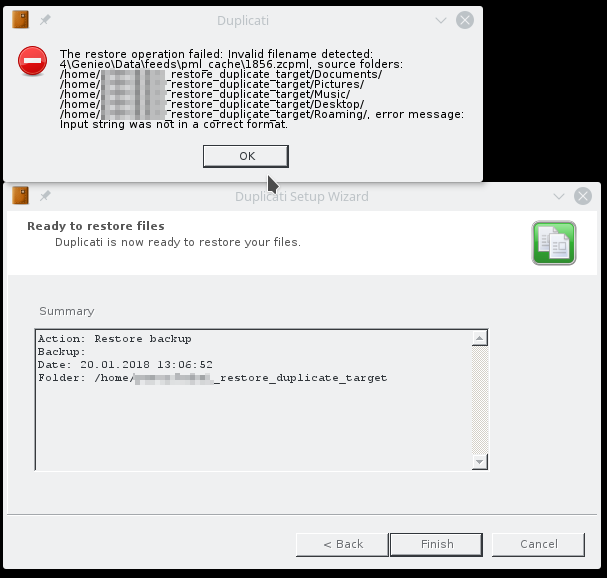 I thought I could get around this by only restoring a subset of the files, but this failed when trying to list the content of the backup: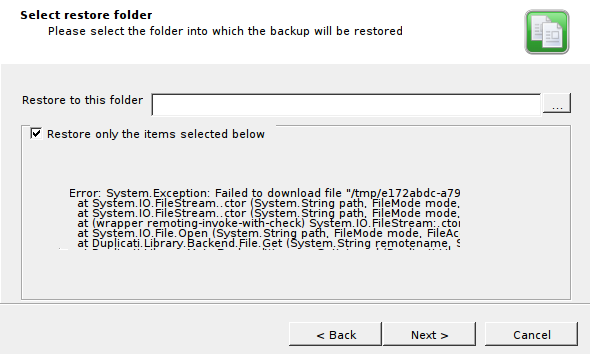 Any advice how to recover from this problem and get as much files back as possible? I have both Linux (Debian) and Windows 7 at hand to further investigate.
Unfortunately, I didn't find to much documentation about duplicati 1.3.4, if i missed something, I would be glad to get a link to it.