Hi there, apologies if these are known issues, searched the forums but didn't find answers
I'm running 2.0.4.5 on a MacBook Air i7 with 8Gb or RAM, running Mojave, backing up to a B2 bucket. Browser is Chrome. The backup seems to be running OK so far, but…
Is there a Mac-specific version of the manual? Almost all of the examples are for Windows…
Is there a known issue where the backup progress percentage on the main screen is inaccurate? Backup is about 40% done, but sometimes the progress says 0.00%, sometimes it jumps to 60 or 70 or 90%, then back to 0.00 (see screenshot)
i was looking for the various utility programs referenced in the manual, but when i looked inside the Duplicati Mac package file, I only see .exe and .dll files, which seems odd - these obviously won't be useful on MacOS… are there MacOS versions of these somewhere? Why are windows DLL and EXE's included in the Mac package?
i checked my upload speed on the Backblaze B2 site several times and it varies between 3-10 Mb (see screenshot) (Bandwidth Test), but my backup is consistently only running at 1.2 - 1.4 Mb. Is this expected?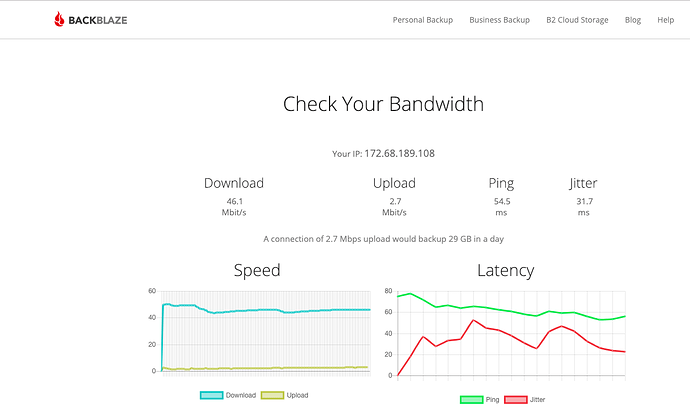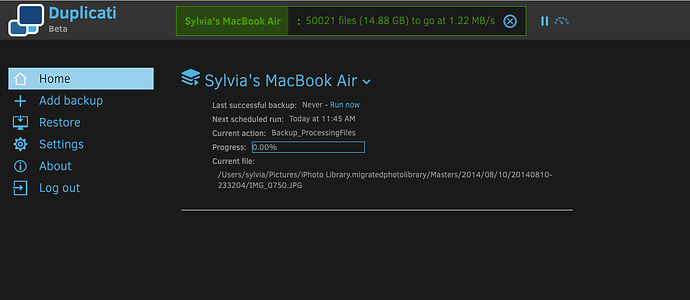 Appreciate any pointers or feedback.
thanks
Don