Hi,
I'm using Duplicati BETA 2.0.6.1 on host A and Duplicati BETA 2.0.6.3_2021-06-17 on host B. I had planned to put (file server) host A out of service and move the disk "exactly as is" to host B and taking duplicati (and existing DB + backup sets) along. I expected my backup job execution on hostB to run through (with almost no Kilobytes changed) within the normally logged job duration of about 8 minutes. BUT: It took about 5 hours.
Question:
Does Duplicati detect a host change, e.g. when the hostname changes from hostA to hostB?
Does it trigger a full re-read and re-calculation of file checksums by itself?
– Under which preconditions?
So I did the following:
stopped all services on host A ( ISCSI /datapool , duplicati BETA 2.0.6.1 )
unmounted the /datapool so nothing got changed since this moment
installed fresh services on host B ( ISCSI /datapool , duplicati BETA 2.0.6.3 )
mounted /datapool to host B (exactly with the same options host A mounted it before)
ensured the fresh duplicati install on host B is stopped (it was after install)
moved duplicati service config files from host A to host B (/etc/default/duplicati, /etc/systemd/system/duplicati.service.d/override.conf )
I did not have to move my duplicati .config dir because it's part of "/datapool0/.config/Duplicati"
host A "systemctl daemon-reload; systemctl enable duplicati; systemctl start duplicati"
Duplicati started fine, showed all my existing configuration and jobs
What Duplicati did:
It saw a (major file server "all files") backup job was due to execute and it executed it by itself.
The job ran successfully through, but took very much longer than normal. After the /datapool was accessible again for users, only 2 files (some Kilobytes) were changed before the job executed.
Here is my log of the last backup execution on hostA ("before moving disk + duplicati to hostB"):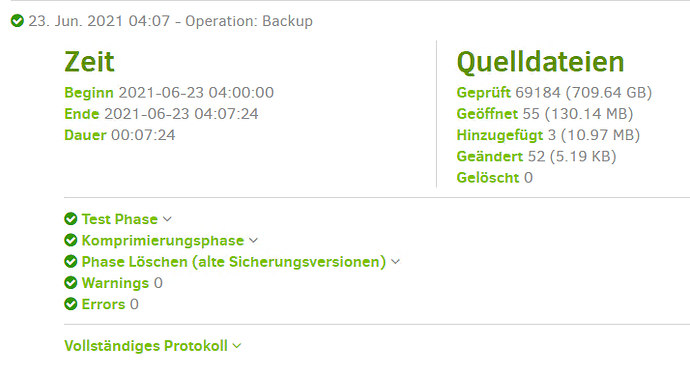 Here is my log of the first backup execution on hostB (notice the changed: 5.75 KB):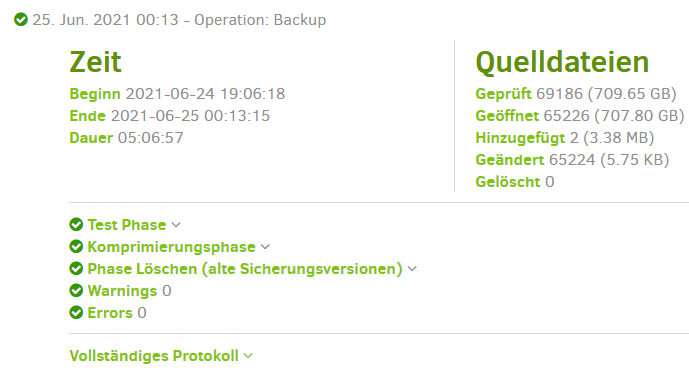 Here is a log of the next regularly scheduled backup job execution on hostB which took the expected backup duration again: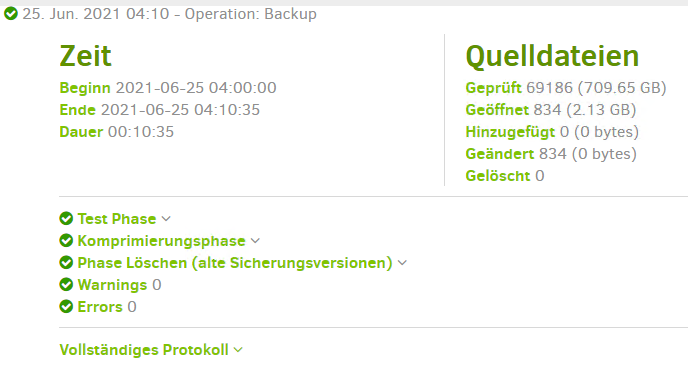 Summary: I observe a backup job taking very long, re-reading all data with (from admin perspective) no obvious reason and then making "fast differential" scan+backup again as normally expected.
Can this behaviour be fixed or is it intended to recheck everything on "host change"? I again checked twice and my mount point chown/chmod/getfacl of /datapool0 was not modified during "the move". I also use Syncthing which itself keeps a database with file permissions and checksums and it didn't report any single changed/re-read file after starting it back up with the existing database of hostA on hostB.
Thanks for your answer.
Kind regards,
Catfriend1