Hi! I'm trying to send a very basic HTTP report with only %PARSEDRESULT% and a backup ID as parameters. This is my current configuration: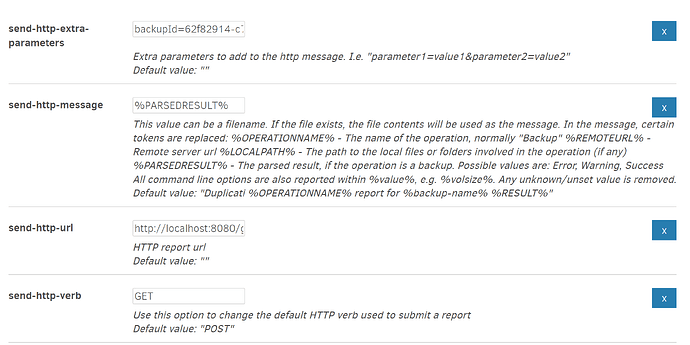 With this configuration, when I run the backup, I get [Warning-Duplicati.Library.Modules.Builtin.ReportHelper-ReportSubmitError]: Failed to send message: System.Net.ProtocolViolationException: Cannot send a content-body with this verb-type
If I use POST and JSON as result-output-format it works fine, but I get a whole report with a lot of info that I don't need and without the backup ID that I do need.
I'm guessing I'm doing something wrong, but I don't know what.
I'm using Duplicati 2.0.7.1_beta_2023-05-25 on Windows 11